Today is 40 years since Motorola launched first cell phone which was about one kilogram and it measured 22.86cm x 17.7cm x 4.44cm. The talk time of the phone was fairly short since its batteries only provided a charge for about 35 minutes and took about 10 hours to recharge. The price of these babes back then was around couple of thousand US dollars. These phones IMO only became more popular in '90 when their price went down so people could actually afford it.
So, since beginning of '90 until now the mobile industry developed as everything else in technology. You can practically do everything from your phone - smartphone.
CNN launched an article with some photos of prototypes of next generation of the phones.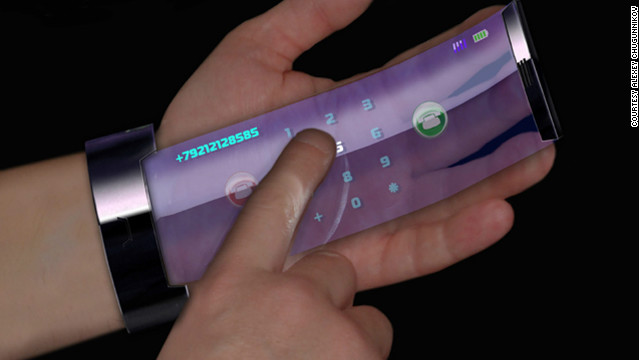 New functions of smart phones will include:
3-D display

Your smartphone will have a 3-D display and a 3-D web browser, and you won't need special glasses to view it. So instead of just viewing web pages on your smart phone, you'll be able to go into environments (or stores or showrooms) and maneuver around in them, just as you do on devices like the Xbox.
Biometric security
Rather than have to remember numerous passwords, you will be able to access data and sites on your smartphone using multiple biometric authentications. Advanced screen resolution and sensors on the phone will make this possible.
For example, when you touch the screen, it will recognize you based on your fingerprint. In addition, your phone's front-facing camera will use facial recognition to identify you. Everyone's voice is unique, so voice recognition will also be part of the identification/security process.
Wireless payments

Your smartphone will become your wallet. Credit cards are easy, but e-wallets are easier. Currently, Google has a mobile wallet that works with Citi MasterCard, and in the future it will work with other credit cards. It is secure and enables you to make payments with your smartphone.
No more screens
Some of your smartphones will be screen-less. The traditional smartphone with a screen will not go away, but you will have an option for a screen-less smartphone. This will be a very popular and highly adopted smartphone because without the screen, you get rid of much of the need for a big battery.
I took out some interesting stuff out of the article, you can check rest of the pictures of the prototypes and you can read rest of the article here:
http://edition.cnn.com/2013/02/21/tech/mobile/smartphone-developments-mobile-strategy/index.html?hpt=te_r2
Scared? I surely am!
One kilogram cellphone... WOW.

Athena

Getting the Hang of Things





Posts

: 455


Join date

: 2013-03-08





Similar topics
---
Permissions in this forum:
You
cannot
reply to topics in this forum