Another feel good story.
We Found Our Son in the Subway
The story of how Danny and I were married last July in a Manhattan courtroom, with our son, Kevin, beside us, began 12 years earlier, in a dark, damp subway station.

Danny called me that day, frantic. "I found a baby!" he shouted. "I called 911, but I don't think they believed me. No one's coming. I don't want to leave the baby alone. Get down here and flag down a police car or something." By nature Danny is a remarkably calm person, so when I felt his heart pounding through the phone line, I knew I had to run.

When I got to the A/C/E subway exit on Eighth Avenue, Danny was still there, waiting for help to arrive. The baby, who had been left on the ground in a corner behind the turnstiles, was light-brown skinned and quiet, probably about a day old, wrapped in an oversize black sweatshirt.

In the following weeks, after family court had taken custody of "Baby ACE," as he was nicknamed, Danny told the story over and over again, first to every local TV news station, then to family members, friends, co-workers and acquaintances. The story spread like an urban myth: You're never going to believe what my friend's cousin's co-worker found in the subway. What neither of us knew, or could have predicted, was that Danny had not just saved an abandoned infant; he had found our son.
For the
Happy Ending
, go here: http://opinionator.blogs.nytimes.com/2013/02/28/we-found-our-son-in-the-subway/

_________________
Sh t happens, deal with it.

Dad's Note To Gay Son About Coming Out Might Make You Cry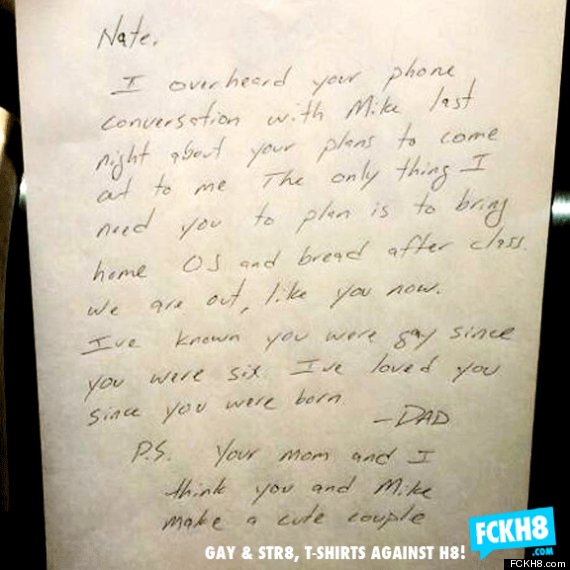 Coming out may not always be easy. One father, who overheard his son on the phone discussing his intentions to reveal his sexuality, eased his child's worries by writing him the best note ever.

FCKH8.com, an equal rights organization, first posted the touching letter to Facebook on Friday morning. In the note, the father explains he overheard his son, Nate, talking on the phone about coming out. But the father tells him there is no need -- he already knew, and he never cared.

"I've known you were gay since you were six," the father writes. "I've loved you since you were born."

He also added a sweet postscript, "Your mom and I think you and Mike make a cute couple."
[url]http://www.huffingtonpost.com/2013/03/15/dads-note-to-son-coming-out_n_2883194.html?utm_hp_ref=gay-voices&icid=maing-grid7|main5|dl4|sec1_lnk2%26pLid%3D284430[/url]

_________________
Sh t happens, deal with it.
It made me smile. Good for him that he has such an anderstanding dad.

Athena

Getting the Hang of Things





Posts

: 455


Join date

: 2013-03-08



The video is a little long, but I'll bet anything you'll agree it's worth it.

http://www.flickspire.com/m/WalkTheTalk/LifeIsLikeCoffee

_________________
Sh t happens, deal with it.
The happiest people don't have the best of everything
They just make the best of everything
Cool! I enjoyed that one.

Athena

Getting the Hang of Things





Posts

: 455


Join date

: 2013-03-08



Magic Johnson's latest big assist: Helping his gay son come out
Magic Johnson has known his 20-year-old son E.J. is gay for nearly eight years. Earlier this week, after a TMZ video showed the Los Angeles Dodgers' co-owner and NBA Hall of Famer's middle child holding hands with his boyfriend, E.J Johnson's sexuality became public knowledge.

Magic Johnson sat down for an interview with TMZ to talk about his acceptance, love and support for his son.

"As time went on, I think he really wanted to be out but he was torn," Johnson said in the interview. "He really wanted to make sure I was OK. He wasn't worried about his mom. … I think he was worried about what would I think. Am I going to change toward him or something like that."
Magic Johnson was also asked how he'd react if someone on the Dodgers were to announce they were openly gay.

"If that ever happened, I'm going to support him 150%," Johnson said. "[I'd protect him] as much as I can. That's who I am. I'm a protector."

E.J. Johnson thanked his parents for their support via Twitter on Wednesday.

EJ Johnson @prince_ej

in the midst of all this media attention i would like to say that i am truly blessed to have parents that love and support me @MagicJohnson
That is great.

Athena

Getting the Hang of Things





Posts

: 455


Join date

: 2013-03-08



I am not sure if this fits into this thread, but it is a really nice project.

Dove Experiment Aims to Change the Way You See Yourself
That was cool. I can see how that happens too. OK

_________________
Sh t happens, deal with it.
That is incredible. It made me cry. Wow. How powerful.

_________________
"Writing is not a matter of time, but a matter of space. If you don't keep space in your head for writing, you won't write even if you have the time." --Katerina Stoykova-Klemer

ElaineB

Moderator





Posts

: 658


Join date

: 2013-03-05


Location

: Massachusetts



wow, it is so inspiring. Don't always look for the bad things but appreciate the good things about yourself.

Athena

Getting the Hang of Things





Posts

: 455


Join date

: 2013-03-08





Similar topics
---
Permissions in this forum:
You
cannot
reply to topics in this forum